Six characters in search of a murderer, Cluedo brings the classic board game to life in a dark comedy of blackmail and bumping off.
The well-known cast of colour-coded potential criminals has been summoned to a creepy country house by the mysterious Lord Boddy, who has instructed his servants – themselves not a little odd – to corral them in to a deadly game.
Butler Wadsworth is played with tremendously creepy guile by Jean-Luke Worrell. He milks every movement and line for maximum laughs, and his physical presence is captivating – especially in the final scenes.
He outclasses the nominal top-draw talent, with EastEnders star Michelle Collins putting in an entertaining but unintriguing performance as Miss Scarlett. The production's other TV name, Daniel Casey, was absent on opening night at Norwich's Theatre Royal, with his role of Professor Plum taken seamlessly by Harry Bradley.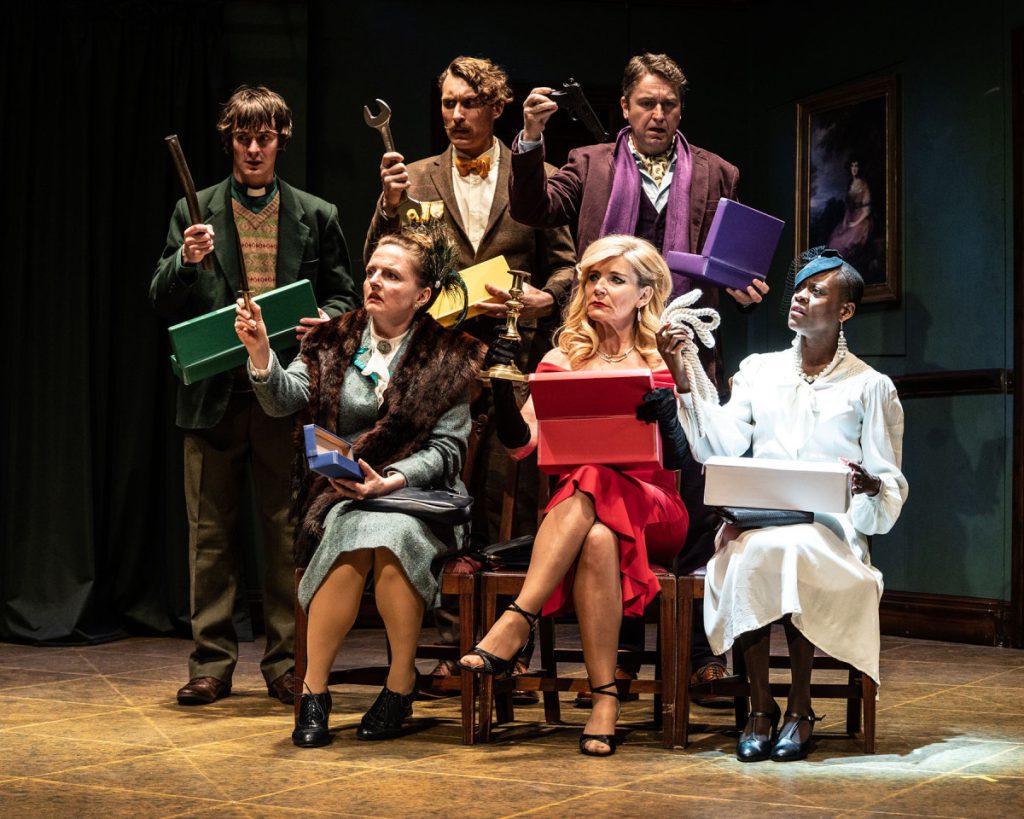 The rest of the cast put up a decent fist of their caricature roles. His excellent slapstick notwithstanding it was disappointing to see Tom Babbage's Rev Green posted as the shy, bumbling, closet homosexual in a stereotype that wouldn't have been out of place in the play's 1949 setting but is beyond lazy today.
There are lots of laughs in the play and some quality one-liners, but the real question is not who murdered who, but what did director Mark Bell do, in the rehearsal room, with the pace? The show is a light 100 minutes, including interval, but at times even that feels over-long. David Farley's design is clever in parts but it is also cumbersome and makes for some slow scene transitions that even Worrell's over-the-top theatrics can't quite disguise.
Nice affectations like The Matrix-style slow motion for a falling chandelier are too thinly spread for what should be a hyper-real, hysterical farce.
It's enjoyable enough entertainment but it doesn't quite know what to do with the Cluedo concept beyond the initial setup, and the script is guilty of needing some beefing up to really build the comedy.