This startling coming of age story has a fittingly unconventional production that captivates and develops the narrative in clever and surprising ways.
Based on the Alice Sebold book of the same name and adapted by Bryony Lavery, the show is defined by its staging. Designer Ana Inés Jabares-Pita's set and Matt Haskins' lighting are as integral to the story as Charlotte Beaumont's depiction of Susie Salmon, the girl at the centre of the story.
14-year-old Susie is the victim of a brutal abduction, rape, and murder, events she retells in harrowing detail at the start of the play, as she arrives in heaven – though one entirely devoid of what one of the characters later describes as "la-la angel wing crap". This place is an absence of life, and seemingly as much as prison as a refuge.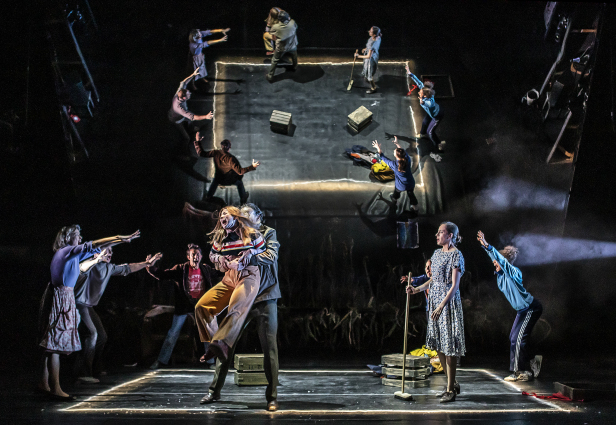 The stage is dominated by a full-width mirrored sheet that at turns becomes partially translucent: juxtaposing, merging, and mixing the ongoing events on earth following Susie's death, and her own 'coming of age' recognition of the things she has lost and will never know.
Beaumont is exceptional in the lead role, a perfect mix of ingenue and frustrated, feverish teenager as she charts Susie's slow acceptance of her situation. She is physical and immediate, and brilliantly convincing.
She is well supported by Fanta Barrie as her 'little' sister who eventually outgrows and transcends her own experiences; Jack Sandle as the unforgetting father, whose determination to discover the truth of his daughter's death ratchets up in ever-more self-destructive notches; and Catrin Aaron as her mother and Huw Parmenter as the investigating detective, whose own threads of grief draw them together in a kind of resigned affection. (Parmenter also doubles up as the boyfriend of Susie's sister, though his skill is such that you would barely know except for the cast list.)
Nicholas Khan also impresses as her killer, drawing a calm and composed figure but with subtle hints of a twitching monster beneath the surface. There is no melodrama, but grim reality.
The content and themes of The Lovely Bones are not easy ones and the production does nothing to shy away from that, but it also reflects the full range of human emotion: there are joyous, rapturous moments, flowingly naturally in without undermining the overall power of the piece.
Despite the apparently bleak story, this is a tale of redemption of sorts and one that gives permission for life to go on, in all its messy glory.
Drama's place is to hold a mirror up to nature – even our darkest places – and The Lovely Bones does that both figuratively and literally. It is a clever, captivating, and compassionate theatrical triumph.
The Lovely Bones is at Norwich Theatre Royal until Saturday, October 12. The UK tour continues, including Cambridge Arts Theatre from Monday, November 4 to Saturday, November 9.